I have to admit, I absolutely love to try out new mascaras. It's one of my weaknesses - anytime I see a new one on an
endcap
, or see it in a magazine, I'm game. Especially the mascara you find in a drugstore! Now, I've yet to find a brand I like more overall than
Rimmel
. Every mascara I have tried of theirs I like in it's own way - either for bold dramatic eyes or for subtle natural looking lashes. The new
Glam'Eyes
is no exception.
First, the packaging brings us back to the '40s when actresses and celebrities had absolutely stunning and gold lashes.
(click on the pictures to enlarge)
Secondly, the comb is one of a kind. There are two perspectives to the comb. There is a portion that has short lashes, allowing for volume, and another side with longer
combs
, which aids in length and separation of the lashes.
Below, the short combs, helping add volume:
And below, turn the wand and see the long combs, providing length and volume: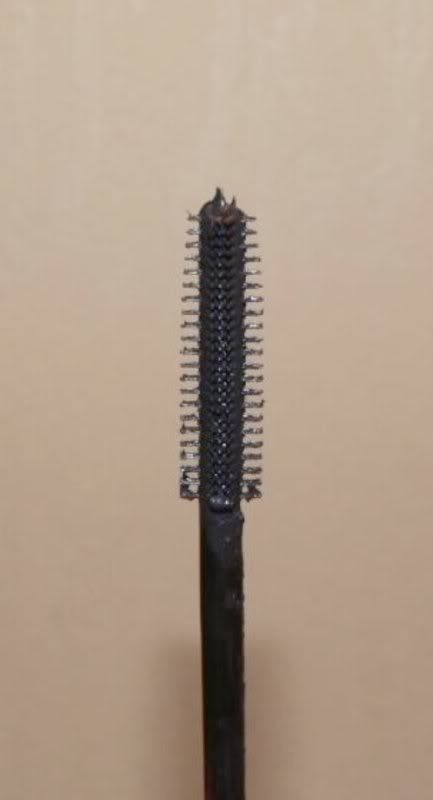 I have to admit, this is my new holy grail. I absolutely lean to this mascara any time I need the look of false eyelashes without the clump! I will do a FOTD here in a bit where you can see the depth and dimension each lash gets. It's amazing!
Retail Price: $12.00 USD
Where to purchase: Click here, CVS, Walgreens, Walmart, KMart
Product: 5 out of 5
Price: 5 out of 5
Packaging: 4.5 out of 5 (my comb bent a little bit when I put it back in the container)
Overall: 4.5 out of 5
Would I purchase again? Overall, I would definitely buy this product again - it's great, especially being that it is a drug store brand! As I said, my HG mascara for sure!