Being the Bare
Escentuals
makeup
fiend
that I am, I thought I would share another little bargain I bought a while back from the Bare
Escentuals
boutique here in Indianapolis. I thought these colors would be perfect for spring, especially as an eyeliner or bright smokey look. The two colors that came in this kit are
Masquarade
- a deep turquoise blue, and Mystery, a very warm mauve/lilac color with hints of
fuscia
and gold sparkles.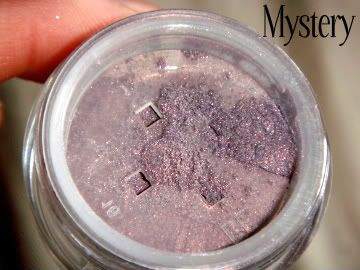 The swatches below give you a good idea - but I would almost put these as a "
duochrome
" type color because as you move, the colors adapt to the lighting and change. I
swatched
these dry, and you can see how dramatic the coloring is - as a liner, the shimmer comes out a bit more.