I love when orders arrive unexpectedly early! That is exactly what happened with my most recent order from Fyrinnae, and I was so excited to get it because not only did I order a ton of eyeshadow/liners (Tyr, Mystiq, Freya, Drokkakar, Liquor is Quicker, Strip Poker, Equiality, and Intoxicating) but I order the infamous
Fyrinnae Velvet-Gel Silica primer
, which I have read so much about!
For all of $5.50, you get a very large jar filled to the brim with this fantastic primer for your face. At first look, this reminds me of a jar full of the Smashbox Photo Finish primer or the Monistat Anti-Chaffing Gel, but once applied it gives a completely different result. This smoothes evenly into the skin and dries almost instantly. It doesn't leave the skin with the "film" that the Smashbox primer does, which I find some people found very discouraging. Instead, this tightens, smoothes away and fills pores, fine lines, and imperfections, leaving the smoothest and easiest template for any foundation (liquid or powder) to be applied effortlessly. Even more impressive, this base allows the foundation to stay in place all day!
Here is what the website says (or go on over -->
click here
!)
"Our top seller for April and May 2009! Contains NO

silicones

!
After months of testing and tweaking, our gel primer ended up being very simple, consisting of 4 ingredients plus a teeny-tiny bit of preservative. With about 50-60% micro-silica spheres, this primer creates a smooth finish, blurring fine lines and pores, that not only can help stop excess oil, but allows any type of foundation to be applied more evenly. The aloe-based gel prevents this product from being overly drying, since silica alone can pull moisture out of your skin. The aloe is pure, not a commercial variety with alcohol and colourants. Tested on dry/sensitive and acne-prone skin with no adverse effects, but is favoured by people with oily skin.

To apply, smooth on a very, very small (much less than pea-size) amount with fingertips after applying moisturizer (& sunscreen). If it feels tight or looks flaky/streaky when dry, too much was applied or it was not rubbed in well enough over a good moisturizer. Or, mix in a drop of water while applying. Can also be mixed with moisturizer and worn alone for a "soft focus" look.

1/2 ounce jar (.5 oz). $1 samples are little leak-resistant flip-cap vials with enough product for 3-5 applications (the price in the drop-down selection is minus the regular price). To open the sample vials, hold upright and squeeze both sides to pop the cap.

Ingredients: Silica (silicon dioxide), Aloe

Barbadensis

Leaf Juice, Purified Water,

Acrylates

/C-10

Alkyl

Acrylates

(this makes it into a gel),

Iodopropynyl

Butylcarbamate

"
I fell in love with my first go round of
Fyrinnae
Inks Liquid eyeliner (I already have
Lover's Quarrel
), and decided I
need
something more slate/taupe colored to wear with some of my cooler
eyeshadows
I've acquired over the past few months. This time, I decided on
Intoxicating
. An absolutely gorgeous shade, this turns from silver, to
lavender
, to taupe and is extremely shimmery!
Last but not least, I ordered several new shades of eyeshadow that I thought would work well as both shadows, but liners, too. Several of these have a black base, so I am hoping to use these as alternatives to dead black liquid eyeliners, for a change of pace. I also found two colors, that I have immediately fallen in love with: Liquor is Quicker, which is a fantastic matte white with
iridescent
shimmer/sparkles, and my sample
Mystiq
, which is very difficult to explain - it looks purple in the container, but changes to blue and taupe depending on the light!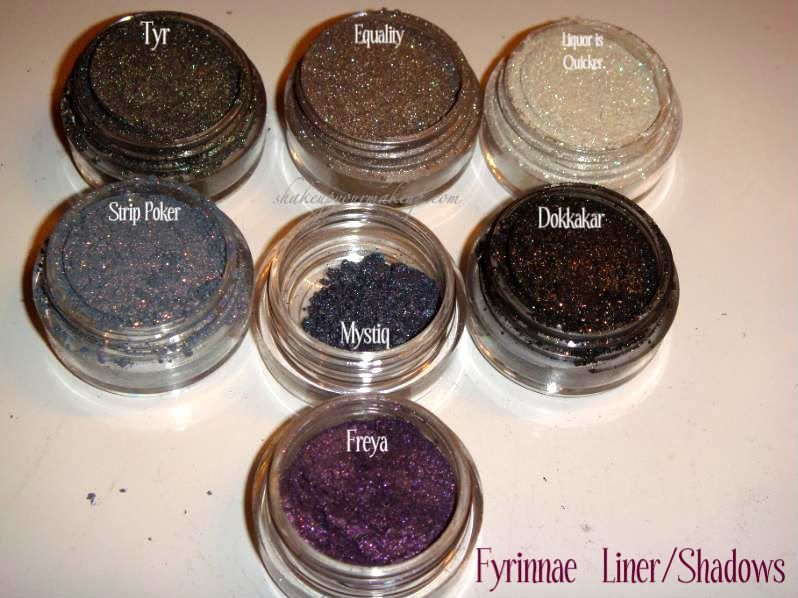 Below I took closeups of the shades, and you can really see the difference between application wet (
just
with water) and dry with a dense eyeshadow brush. I love these and have already started playing around with different looks and techniques! For those of you who have been looking for a white eyeliner, I would definitely suggest Liquor is Quicker, because when applied wet, it is the most gorgeous freshly-fallen-snow-shimmering-in-the-sunlight-white I've ever seen!