A few months back, Laura Geller had a Today's Special Value on QVC called "
On the Bright Side
". This is
still available here
, and has some great tools and tricks for brightening your complexion, which can be a lot easier than you think!
The set comes complete with your choice of Balance 'n Brighten, a split color Blush 'n Brighten in a new finish, called Sateen, an eyeshadow duo, waterproof pencil eyeliner, a new cooling concealer called Banish 'n Brighten, and a great new multi-purpose lipgloss.
I chose the Balance 'n Brighten in Fair. As I've said in the past, these tend to run a little darker on my skin then the Bare Escentuals Fair, but now that it's summer I find this foundation works quite well, especially when I'm in a hurry and am looking for a quick way to even out any complextion blunders.
The Blush 'n Brighten is a combination of Ethereal Rose (left) and Subtle Sateen Berry (right). This is not quite as shimmery as other Laura Geller blushes, which I think are similar to the MAC Skinfinish or Mineralize blushes, and instead gives a "glow" without chunks of glitter. Ethereal Rose is a beautiful pale pink grapefruit color and the berry shade is a mixture of tan, gold, pale pink and raspberry with a hint of shimmer. The color truely gives you that healthy *just-pinched* cheek color, and adding the Ethereal rose over the top really finishes the shade off nicely. As you know, I am a fair shade, but this color has so much complexity it should work all the way through the skin tone color wheel without any issues. Being made in true Laura Geller fashion, this is a nicely pigmented blush, so a nice skunk brush will give you a light wash, where a dense brush will work well on darker skin tones, or to add more color to the cheeks.
The eyeshadow duo, which is Sateen Eyeshadow and Eye Rimz, Laura has created a new texture and finish in baked makeup, which she calls Sateen. This new finish imparts a sensuous, silky pearly glow that washes skin in radiance. Brush Fresco Pink shadow over your entire lid, and under the arch of your brow. With a liner brush, apply a thick line of Eye Rimz around your eye.
The two colors in this set are beautiful. The Sateen Eyeshadow is a pale rosey pink. It actually looks very similar to the Ethereal Rose above, and is a great color to brighten and open up your eyes. The Rimz shade is called Mystic Sea, and although it looks almost like a black below, it is actually a deep teal with irridescent turquoise, silver, and green shimmer running through. This color is gorgeous, and makes a great crease shade, but when applied wet is a beautiful deep teal eyeliner.
A new addition to Laura Geller's collection is the ICare Waterproof eyeliner in Bone. A creamy, smooth consistency, this has a hint of shimmer to it (without being chunky) and can be lined along the inner eye to hide any redness and really open up the eye. I've yeard for years that white eyeliners really do brighten an eye, but I haven't found one that actually lasts on the inner rim of your eye, but this one does! The hint of shimmer also helps reflect light and brighten any dark circles. Keep in mind, this isn't frosty, there is just a hint of lumincesence to the color.
What a novel idea ... a concealer that cools as you apply to help reduce puffiness! The extraordinary new Banish-N-Brighten makes dark circles, signs of fatigue, and any bothersome imperfections diminish in a beam of light. Use the cooling applicator to pat and smooth a small amount from the outer corner of the eye inward. Blend.
If I remember correctly the applicator is rhodium plated, so that is how you get the cooling effect immediately upon application. It really works, too! It feels so nice, especially on those days when I didn't get enough sleep the night before! I will admit, that the formula was a bit tricky to get used to. As it is cooling as well, my eyes had a hard time getting used to this effect upon first application, but after my second day I was good to go.
The lipgloss is called Opal, which is a perfect description. This is a thick, not sticky, clear gloss with tiny irridescent shimmer, like crushed Opals. Add the SPF15 to this, and you can have multiple uses: wear on it's own, or add it on top of your flavorite lipstick to add a new dimension!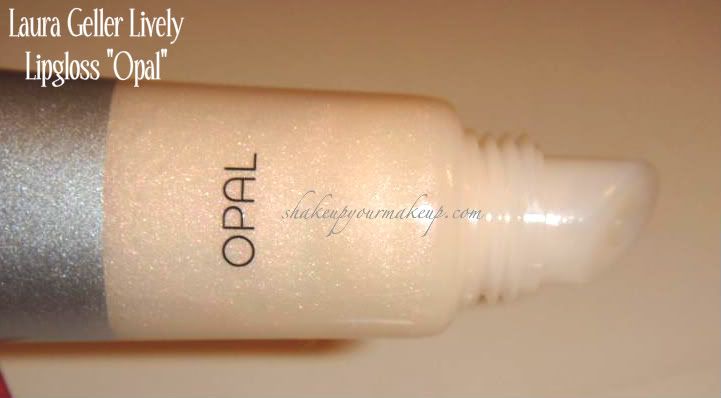 The color and shimmer were hard to capture in photography, so I've added a few pictures in different lighting below.
Swatches below. You can click any pictures to get a larger image. Keep in mind, for some reason the Banish and Brighten is showing a little yellow on my screen. It really is closer to the "bone" eyeliner next to it, but somehow my camera made it look wacky!