A few weeks ago I placed my first order with
Aromaleigh
. I know, I know, I am WAY behind the time on this one, but I decided I needed to treat myself to some new makeup, and this would be the perfect way to try out their shadows. (
Of course, about a week later she announced that the store was closing - this is definitely Karma for me not placing an order sooner!)
Aromaleigh is an online retailer of pure mineral makeup, amongst other things, with an extremely vast variety of shades and finishes. Talk about versatility!
I decided to try out a few shadows and then pick up some samples. I chose three colors that I thought could be used as a shadow or liner: Blast, Bette, and Ruthless Indulgence.
Blast is a deep olive shade with turquoise, blue and purple sparkle.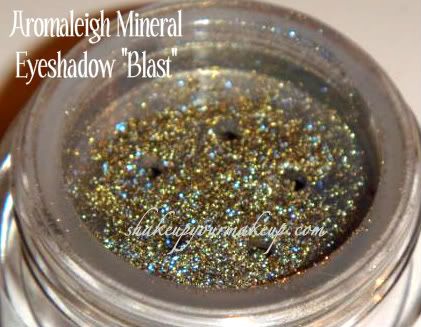 Bette is a deep navy/purple sparkle on a matte black base. There are also hints of turquoise and fushia sparkle. This would be a great alternative to a basic black eyeliner.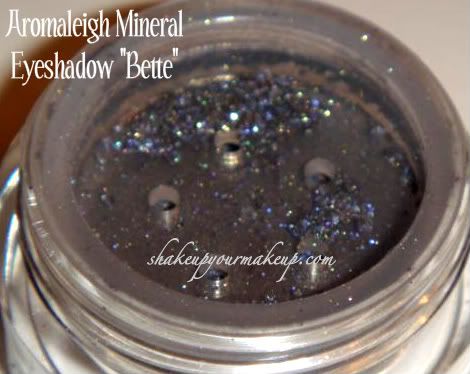 Ruthless Indulgence is a beautiful egg plant shade with lavender sparkles.
The three samples I chose were: Window Shopping (peachy gold), Air & Light (pale silver base with pink and lavender flashes) and Dragon (dark silver smoke).
Swatches are below - feel free to click the image for a larger view. I applied these dry and without a base, just to see how the texture was. I was very pleased to find that these are very smooth, and even those with a lot of sparkle have some major staying power without a base (although I will definitely use the Fyrinnae Pixie Epoxy when using as a shadow). I am really loving Air & Light - this is a color unline anything I have, and has a lot of versatility as a highlight and base.
What are your favorite colors from Aromaleigh?
I am thinking about placing another order (my second Haul will be posted tomorrow) since there is a coupone code for 35% off (adieu35) due to the store closing!