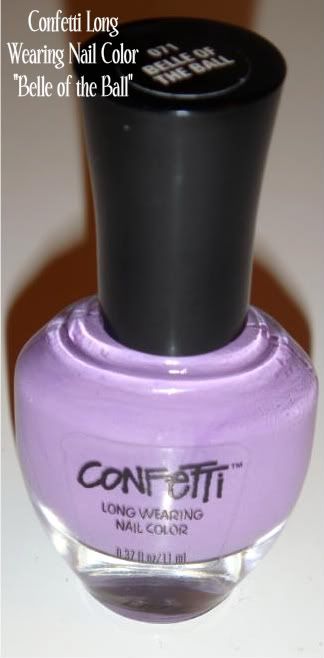 Earlier this week I posted a display,
here
, of the new nail polish lines that CVS is carrying. I decided to grab a polish from each line, Confetti and 10 Professional. Today, let's take a look at the Confetti Long Wearing Nail Color in "Belle of the Ball". (For another opinion of the Confetti line, take a look at the
Recessonista's review
here). Note, she also discovered that Confetti and 10 Professional are actually from the same company!
Interesting
...
Belle of the Ball is a cream, relatively opaque, true lilac shade. It looks a little cooler in the bottle than it does on, but in all reality, you can't tell a difference in the product in the bottle once applied. (I mention this because I notice a lot of creme's turn a lot darker once applied and dry, but not so much with this one). Anyway...moving on....
The brush is a little funky. I almost think it is too long for the bottle, so as a result, it kind of *scrunches* up at the bottom, and therefore isn't straight. I might try cutting it a bit shorter to see if that helps. It didn't really hinder application much, in my experience, but was a bit ackward.
Product consistency is smooth. It's a bit runny, so I think I could have gone with a 3rd coat on my manicure. I'm not sure if you can see it in the pictures below, but in some lighting (especially natural light) I can see a little streakiness.
The product did dry extremely quickly, and seemed to have a built in top coat. Instead of giving that matte appearance when dry, it did have a nice shine to it. I didn't add a top coat as a result, but just a fast drying Seche Vite to make sure I didn't ruin my mainicure during the day. So far, so good on the lasting power as well
All in all, I can't really complain too much about the product - I mean, let's be honest - it's $1.99, and it's hard to find a full size (not Bon Bon at Walmart) polish under $5 that is remotely decent. I'd be willing to try out a few other shades, and see if I have any different experience, good or bad, with those. As for the particular color I picked out, Belle of the Ball, I normally don't go towards the bright eclectic shades, but I might have to start now - I am really loving this purple. It's bright, but not so pastel that it looks more appropriate for spring. I'd say I'm pretty happy with my $1.99 investment.