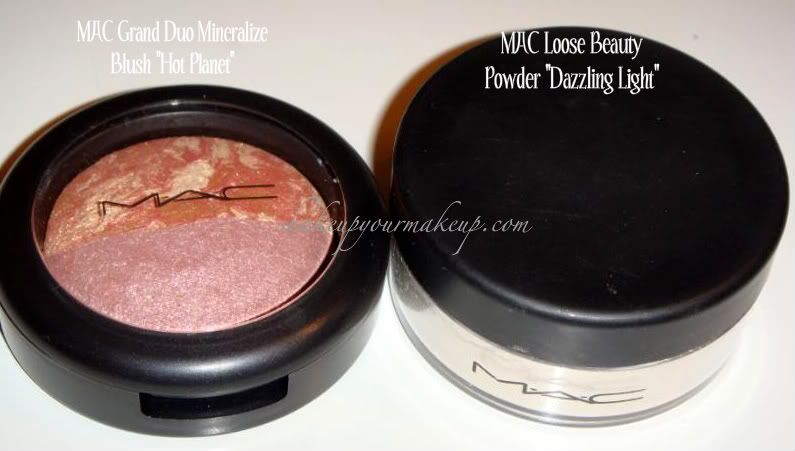 A recent swing by the Cosmetic Company Outlet, and I found a few MAC items I needed to have. The first is the Mineralize Blush Duo from the Grand Duo Collection called Hot Planet, and the second is a Loose Beauty Powder in Dancing Light. Both are beautiful in their own right! The Loose Beauty Powders are milled loose powders that bring a sheer irridescence to the eyes, cheeks and even lips! I believe these are/were available through the MAC Pro stores only, if memory serves correctly.
The Grand Duo Blush in Hot Planet is a split blush, one side swirled with pale and deep corals, bronze and ivory shimmer. The other side is a beautiful warm rose shade. Blended together, this creates a gorgeous pink/coral flush. Like most of these mineralize blushes, especially those with darker colors, I would suggest using a light hand to apply the first time, at least until you learn how *bright* the color will be on your cheeks.
The Loose Beauty Powder in Dancing Light reminds me of crushed pearls, or a larger version of Bare Escentuals White Gold Glimmer. This is truely an ivory base with golden shimmer. When applied with a brush, it sweeps across the skin and leaves behind a beautiful pale golden shimmer. This is perfect to add highlight, use as an eyeshadow, or add some shimmer to a lip gloss. I use this one all the time, especially in the summer when the golden shade can play on sun-kissed skin.
Swatches are above - I swiped both sides of the Mineralize Blush, and then blended together. As you can see, it is quite pigmented! Next to the blush is the Loose Beauty Powder...gorgeous!