I think by now most of you know I love to try different mascaras. Mascara is one of my favorite beauty products, and any more there are so many different kinds, colors and brushes, I inevitably have an entire drawer devoted to them! Well, L'Oreal has come out with a new version of their Double Extend, called
Eye Illuminator
. There are several different versions: Black/Copper (for blue eyes), Black/Bronze (for green eyes), Black/Quarts (for brown eyes), and Black/Crystal (for all eyes). Although I didn't try the original version of this, I was intrigued by this new collection because of the sparkle and metallic mascara on one end. Now, before you all sigh a collective "ohhhh....another one of those?!", let's give it a try and see what the verdict is!
First, the mascara side. The wand is a basic bristle brush, and the formula is that of a lengthening mascara. This isn't clumpy, dry or thick. Instead, the formula is quite light, and allows for the brush to do the work to pull the product across the lashes and lengthen.
Next, the Illuminator side. From the packaging on the outside, I would have thought this was a version of the L'oreal Telescopic Explosion mascara - you know, the one with the ball brush? Well, upon closer inspection, this is actually a hybrid of the really thin bristle brushes that are used for either your lower lashline or the random glitter mascaras on the market, and that of a normal spiral bristle that has been cut into a ball shape. I know, a crazy explanation, but take a look at the picture above...I think that about sums it up! The actual mascara isn't a glitter, but instead looks like a metallic mascara. The picture above doesn't do the color justice at all - in the Black Bronze set I bought, this portion looks like liquid copper - it's absolutely gorgeous! The next question would be...does it actually show up on the lashes?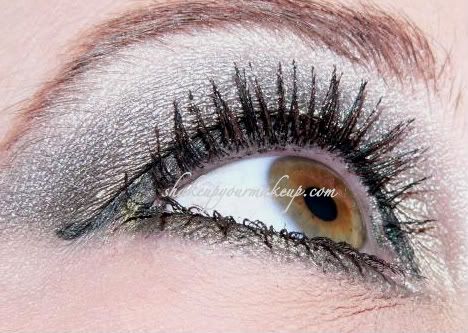 I really wish I could figure out my camera, because these pictures are not reflecting what the mascara actually looks like in real life. First of all, I have to say I was impressed with the formula of the Double Extend black mascara. I don't typically go for the lengthening mascara because as much as I would love long lashes, I would rather be able to *see* mine, and a volumizing mascara is required for that! With that said, the formula on this was nice and buildable, clumping was minimal, so I was able to get a nice effect. The metallic side was exactly how I would want one of these to be - actually visible once applied! Unfortunately my camera's flash washed out any of the color, so there is barely any notice in the pictures. My lashes looked metallic, had sparkle, and you could see it in every day light, directly on, from the side, etc. There was no fall out, it wasn't chunky, and it didn't clump on the ends of my lashes.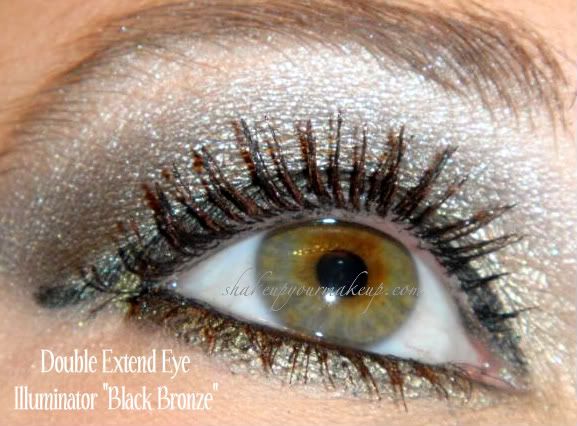 I have tried so many of these glitter and colored mascaras, and this was the first one I've actually seen on when I looked in the mirror after application. There definitely is color, shine and sparkle. I really do think this would be gorgeous for the holiday season! I wore it yesterday and received tons of compliments on my sparkles...
Also, a snapshot of my EOTD using the Wet 'n Wild Night Elf palette, Hard Candy's Lunar Eclipse Meteor Eyes and L'oreal's Double Extend Eye Illuminator in Black/Bronze.
OK, so have any of you see and/or tried this?