I recently picked out some newer products from Avon to try out, including their 24K Gold line - the eyeshadow quad in Golden Splendor and the mascara in Golden Black. Both of these were limited edition for the 2010 Holiday season. A while back, I think last year, I picked up some of the Ultra Rich 24K lipsticks from their 2009 collection and absolutely loved them. With the new formulas in their shadows, I thought this would be a good product to try!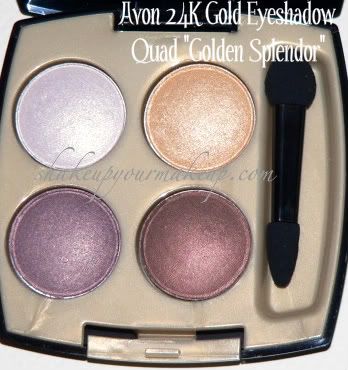 The eyeshadow quad in Golden Splendor is a set of four shadows with a golden lustre to them. All four would work extremely well together to create a warm golden look. There is a nice cultured pearl highlight shade (top left), a beautiful true gold (top right), a plum with golden shimmer (bottom left) and a warm coppery/reddish/brown (bottom right).
As with my previous history with Avon's eyeshadows, these were not extremely pigmented, so I thought I'd give them a try over primer. In the swatches above, I have primer on the bottom, no primer on the top. This helped a lot. It's hard to capture in the picture above, but when applying them to the
Now let me get to the mascara. I'm not going to lie, my first impressions were quite disappointing. I really was hoping to see the golden shimmer when I pulled the wand out, but it was minimal at best. I will say, the actual mascara itself is quite nice. I forgot how much I really enjoy the Avon mascaras - this particular one coated each lash and really defined and created a "fringe" effect. The formula is a little on the dry side, but it doesn't clump, flake, or smear. I can actually say this is one of my go-to mascaras, and has replaced Lash Blast as my favorite every day mascara. Once the actual product dried on the lashes, I did notice a hint of shimmer, particularly when looked at from the side.
I'll post a look with these shadows and mascaras in the next day or two. They really are quite nice, and I'm impressed with the updated quality of the shadows.
What is your favorite Avon product? I'd love to hear your thoughts so I have some new things to try out!