I almost forgot how much I love mark. by Avon's products until I received my most recent order, which included the
24K Gold Eyeshadow Quad in Golden Splendor
. I picked up two of the Shimmer Down lip gloss tubes, one in Pink Spark an another in Feels Ripe.
Each tube is a highly glossy, slightly pigmented lipgloss, packed with iridescent gold shimmer. Pink Spark is a beautiful pale peachy-pink and Feels Ripe is in the same color family, but is a brighter (almost red) magenta with the same golden shimmer.
I tried to capture the colors in the shot below, but the flash totally washed them out. You can pick up the shimmer, though.
The lipgloss comes with a squeeze tube applicator. The gloss itself is thick, but not sticky. It has just a *hint* of color, and the shimmer is very subtle once applied. The gloss lasts quite a while, too, which is nice - it doesn't immediately soak in and leave you wishing for more.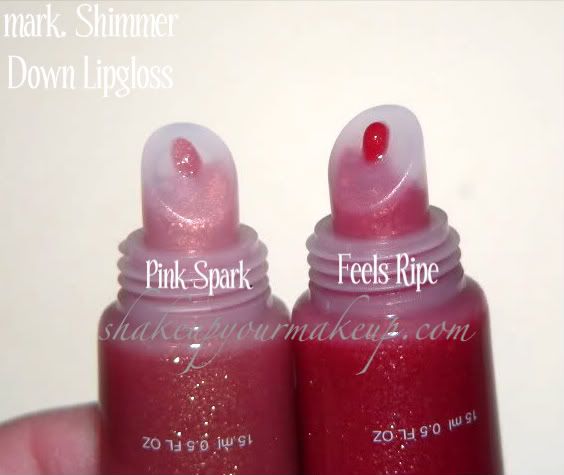 The colors are very true to life in the picture below. I really like Feels Ripe - it adds just a hint of color, and Pink Spark is a perfect natural gloss. See how as the swatch thins out? You can get a good idea as to the color on the lips towards the bottom of the swatch.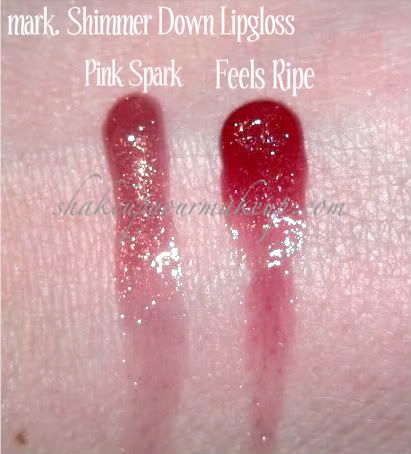 Lip swatches below. Like I have said, Pink Spark is quite neutral - it really is just my lips but shiny. I do like the shimmer, which I couldn't capture in the picture(s) below unfortunately.
Feels Ripe gives a hint of pink to the lips. It actually is even deeper in real life, but I think you get a pretty good idea of it below. The shimmer stands out a little better in the swatch below for Feels Ripe.
I am going to be keeping Feels Ripe in my purse - this is a great gloss to have around. Do any of you have these Shimmer Down glosses? Thoughts?