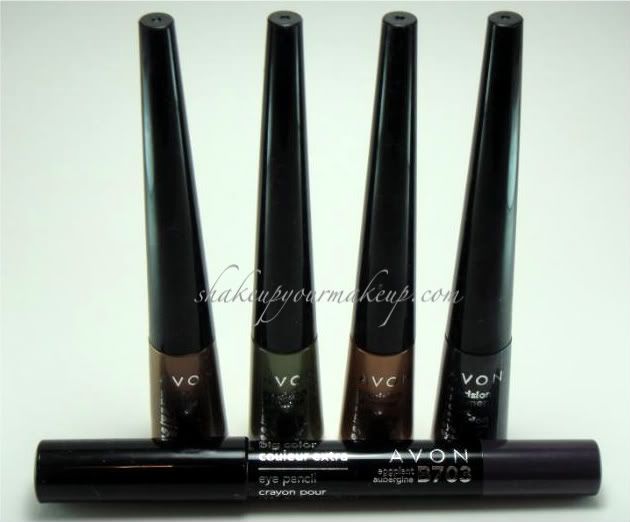 I've been on a bit of an Avon kick recently, so when I saw the
Avon Precision Glimmer Eyeliners
were on sale , I decided to jump at the opportunity and pick a few up. I think they were about $1.99 a piece, so quite a steal for a liquid eyeliner. I also picked up one of the new
Big Color Eye Pencils
in Eggplant to try as well. Right now, they are on sale for $3.99 each, and come in a range of colors too.
I picked up four of the liquid Precision Glimmer Eyeliners: Dune (A deep copper), Olive (a bright, shimmery olive green), Amber (a golden bronze), and Charcoal (a black with silver shimmer). There is also a navy blue called Storm, but I didn't grab this one as I don't wear blues a whole lot.
As the name implies, these are liquid eyeliners. The applicator is a felt-tip, which I typically steer clear of, simply because I have a hard time applying felt tip versus an actual brush-tipped. The applicator on this is actually quite forgiving, and works very similarly to a brush-tip. It is flexible, bendable, and moves along the lashline without dragging. The formula on these liners are quite nice as well - they are not thick or gloppy, and instead are almost thin, making application very easy. The liner dries quickly, too, helping ensure you don't smear or smudge it.
The Big Color Eye Pencils are jumbo sized. I think a better description would be an "Eye Crayon"! The formula is waterproof, so in theory it shouldn't smudge or wear. I haven't tried this one out yet, except for the swatch below. I will say, when swatching this pencil is very smooth and creamy. There is nothing dry about it. I think it could easily be used as a liner, base, or eyeshadow itself!
Well, I am certainly pleased I picked up these colors. Not only are the shades different than any of my *numerous* other colors in liquid liners, but the application is a breeze and they stay all day without flaking off or smearing.
Have you tried any of these liners? What did you think?