By now you have probably seen the new, updated, and improved
Suave Professionals
line at your local drug store or super center. I actually didn't realize they had redone the line until I (literally) fell over a display in the middle of my Meijer store about a week or so ago. Once I got up and collected myself, I decided to pick up the
Touchable Finish Hairspray
and the
Vibrant Shine Spray
. I'm always intrigued by shine sprays because I used to absolutely adore the Nick Chavez Cello Gloss, but not only was it a bit pricey for me, but I don't think it's actually available any more. I will say, the fragrance and results were amazing, though!
Suave's Vibrant Shine Spray is not an aerosol, but instead a pump spray that is said to restore shine as well as Sebastian Trilliant. I haven't used Sebastian, but what I will do is compare this to the Nick Chavez Cello Gloss I spoke about earlier. The Cello gloss was in a small, aerosol can that you sprayed on top of your hair once your style was complete. It had a very good fragrance, almost like honeydew and made your hair shine like it was faceted. Like I said, Suave is in a little pump bottle. The fragrance is similar to the Nick Chavez Gloss, having a somewhat warm, melon scent. It's not overwhelming, but just enough to make you go..."mmm...". The product actually says to "shake to activate the mineral bursts and spray". You'll see why in the closeup below...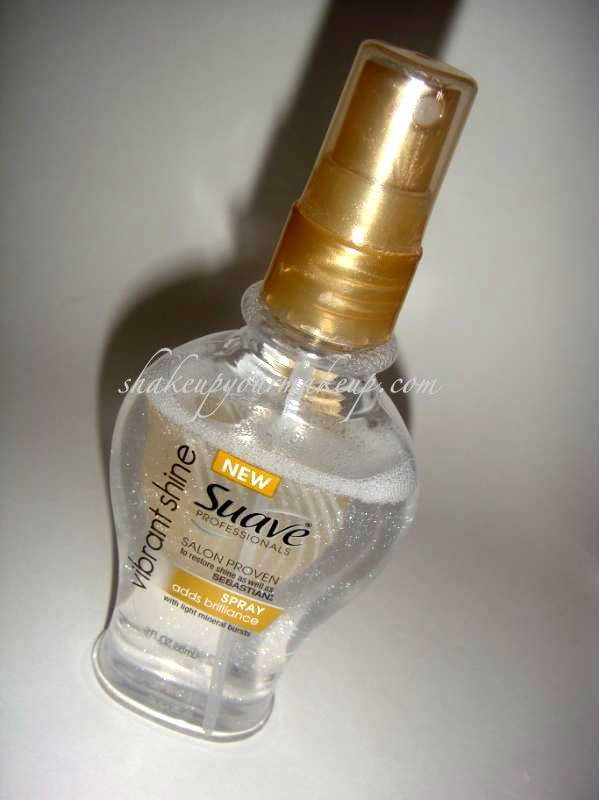 See all those little sparkles in the bottle...no?
Well let's take a closer look...
Once you shake the bottle, all these little silver shimmers incorporate into the liquid, giving your hair all sorts of sparkle and shine. They actually do settle to the bottom if you don't shake it in between uses. Now, don't get me wrong, these are not chunks - you won't look like a junior high cheerleader at a competition with this spray in your hair. Instead, these add facets and shine to your hair. Not only that, but the product istelf adds all sorts of shimmer and shine to your hair. It's not greasy, heavy, or slick. It won't weigh your hair down, ruin your style, or make your hair look wet. It truely looks like you took a can of shellac to your hair and added all sorts of shine. I tried to capture this in the pictures below, but seeing as my hair is "blonde" (I use that term loosely), it's hard to see, but I think you get the picture. Really, all I can say is go spend the $2.97 or whatever it is at your local store and give it a try! A few spritzes and your hair looks shiney and it lasts all day!
As for the hairspray, I'm always on the lookout for an affordable hairspray that works! I don't like *wet* sprays, and honestly one of the best hair sprays I've ever found is the Kenra Volume Spray 25, but it runs around $25 for a bottle (and the large bottle size has been discontinued), so buying that every couple of months just isn't in the budget anymore. I ended up grabbing a bottle of the
Suave Professionals Touchable Finish in Extra Hold Aerosol Spray
. I tend to only buy the aeorsols - probably because of the "wet" vs. "dry" touch of a spritz vs. aerosol.
Well, I've been using this for about a week now, and I have to say I'm impressed! It holds, creates volume, isn't sticky, and has even lasted through a humid day here in the midwest. So far so good!
I'd say I've found a replacement for both my Nick Chavez Cello Gloss and my Kenra Volumizing Spray 25...not only do these two Suave Professional items work...but they are affordable! Who doesn't like that?
Have you tried any of these Suave Professionals? What did you think? What's your favorite product so far?