Milani never ceases to produce great products and a nice price in the drugstore realm. Most recently they have introduced their Baked Blushes, which immediately became a hot commodity and difficult to find out in the market. I came across these three at a Walgreens about a month ago and picked them all up. (The other shades were unavailable/out of stock). The three I found were Berry Amore, Corallina and Luminoso.
Berry Amore is the deepest, and probably most pigmented (in my opinion) of the three. This is a swirl of pinky-mauve and bronze. Both are shimmery, but not over the top. The color reminds me a little bit of the Laura Geller Blush 'n Brighten in Subtle Sateen Berry, that came in her "On the Bright Side" Collection from a while back (
you can see pictures and swatches here
). The Milani has a little more bronze in it, and the Laura Geller has a bit more pink swirled throughout, but once blended you get the same effect.
Corallina is a beauty. This is a true, intense coral swirled with straight up pearl sparkle and shimmer. On it's own, the coral portion would probably be over the top, but the pearl swirled throughout really tones it down, gives a nice added glow, and gives this particular baked blush more shimmer than the others. Personally, I really like this one. Used with a light hand you can achieve a perfectly natural warm glow to the cheeks.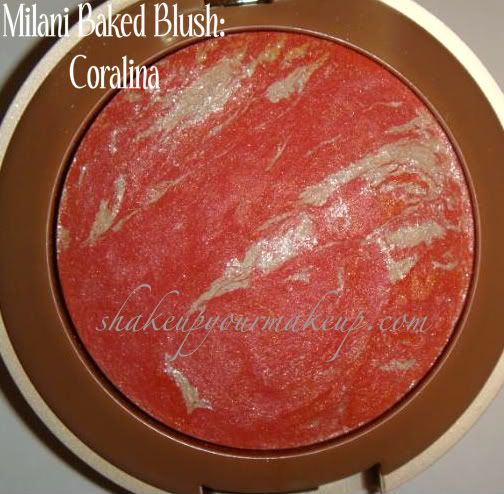 Luminoso is the baked version of Milani's Luminous blush (you can see pictures and swatches
here
and
here
). Although the original has more of a pink undertone and golden sheen to it, this baked version is a very nice, neutral blush. This is less bright and orange version of Corallina, as you can see in the swatches below. I wouldn't say this is less pigmented, I just think it is more neutral so you can have a heavier hand when applying Luminoso versus some of the other colors available.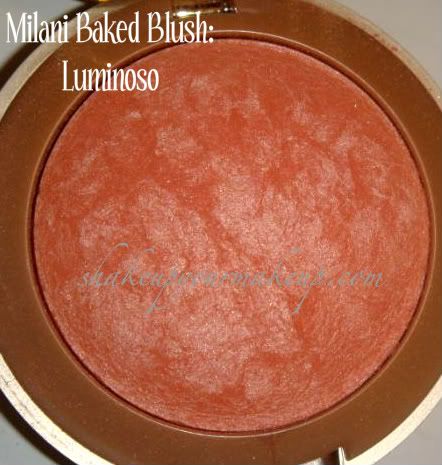 Swatches below are swiped with my fingertip to get the intensity of the colors. I'll post a FOTD using a couple of these in the future so you can see them applied with a brush.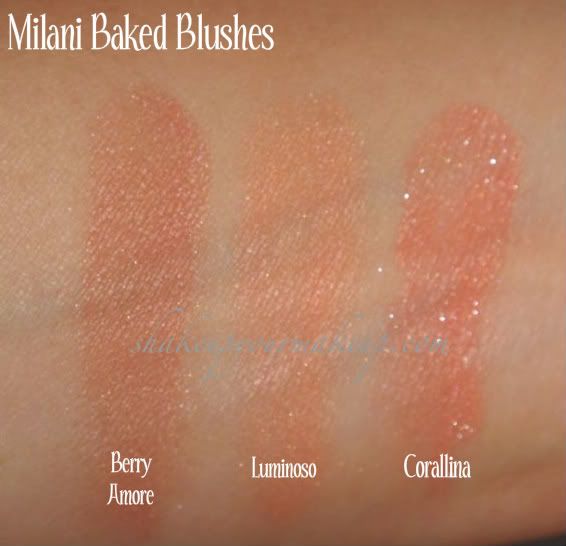 I couldn't be more pleased with these blushes. All the raves I've read online couldn't be more accurate. These are extremely pigmented, there is quite a variety of shades to choose from, and the value is really nice. I'd compare the pan size to that of a MAC Mineralize blush. I'm not sure of the actual product amount compared to each other, but just side by side that's about right.
If you can't find these around, you can see the entire collection online here at
Milani's website
. The lovely
Nouveau Cheap
also has some great snapshots and swatches
here
,
here
and a
dupe alert here
. I absolutely need to find Pink Dulce after seeing her swatches. It looks beautiful!
So, have you stumbled upon these yet? What color is your favorite of the collection?